The measures implemented in your campsite
We are looking forward to re-opening the campsite and welcoming you in the best conditions. In order to have a serene stay, we assure you that we will take all possible precautions to ensure that the "barrier" gestures and social distancing are respected.
We are updating this information page to inform you as soon as possible of our reception conditions.
1 – When you arrive at the campsite
The reception area will be set up to respect distance measures to avoid multiple contacts. Remember to bring your own pen, for example, and plan to wait outside for your turn to pick up the keys to the rental. We are also reviewing the layout so that there is one-way traffic in and out.
Contactless bank card payments up to 50€ will be favored, with the sole purpose of limiting contacts to a minimum. Hydroalcoholic gel and information on the respect of "barrier" gestures will be available at the reception.
Arrivals and departures can be made directly from the accommodations, a request must be made in advance. In addition, in order to avoid contacts and to use as few documents as possible, we will send you the invoice of your stay by email.
2- The swimming pool and the activities at the campsite
As far as the pool and playgrounds are concerned, the structures are not accessible at the moment. We have no information to share with you at this time.
3- Bar and restaurant
The bar and the snack bar of the campsite will be open depending on the governmental measures. Take-out service is available, delivery of food can also be done directly to your location.
4- Animations
For the moment the planning of the animations and the evenings is in reflection, the animations of evening will be organized if the brewery is authorized to accomodate public. An online schedule may be available to you.
5- Access to sanitary facilities
A direction of traffic will be set up in the sanitary facilities to facilitate the passage of everyone in complete safety. Soap and hydroalcoholic gel dispensers will be at your disposal.
Particular care will be taken to disinfect the common areas (swimming pool, playground, restaurant area…)
6- Disinfection of accommodation
A reinforced disinfection of each accommodation is planned between each stay by a company specialized in this field. This may delay your installation by a few hours when you arrive. Dispensers of hydroalcoholic gels (reception, snack bar, take-away, bar….) and masks will be available at various locations in the campground.
The ventilation of the spaces will be an important point for your safety. Between each tenant, we commit to: open all windows for natural ventilation and leave the doors open. All these actions will be anticipated at least 30 minutes before your arrival to ensure the safety of your accommodation.
To avoid putting the virus back into the air, it is necessary to avoid spraying products directly on surfaces, vacuuming floors, using sponges and cloths, preferring disposable wipes. Our mattresses are already equipped with disposable covers, this can also be implemented for sofas.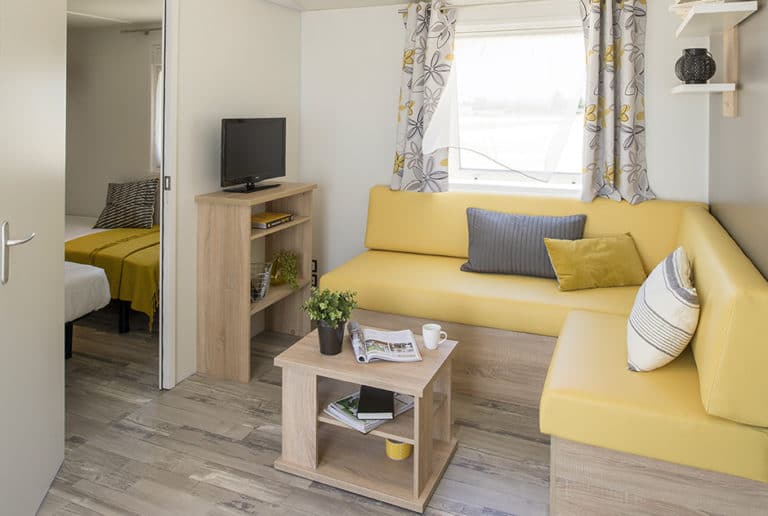 7- The staff of the campsite
The temperature of the employees will be taken every day to minimize the risk of contamination. We are also committed to strengthening the cleaning staff to ensure a relaxing vacation. This will allow us to increase the frequency of disinfection of mobile homes and common areas. In addition, our staff has been trained in the risks and health precautions to be taken.
A referent among the staff is designated to ensure that all precautions and sanitary measures are respected each day.
8- Wearing a mask?
At this time we do not know if wearing a mask will be mandatory during your vacation. However, it could be in nearby mini-markets or public places… For your stay think of bringing a mask just in case. You may be asked for them for your outings in the region.
On the other hand, in your accommodation or on your site, you will not be asked to wear a mask, rest assured.
9 – GENERAL TERMS AND CONDITIONS
For all reservations, please consult the GTC of the campsite at this address: General conditions of sale