RESTAURANT IN SARLAT LA CANEDA
Enjoy a delicious meal at our restaurant in Sarlat La Caneda
Well-loved since its beginnings 40 years ago, our campsite restaurant offers you typical Périgord dishes made using local products in a cosy atmosphere, guaranteed to delight your taste buds.
Our restaurant in Sarlat La Caneda, capital of the Northern Périgord, uses fresh produce from the Northern Périgord region. Sample original recipes to discover the authentic Sarladaise cuisine during your family-friendly holiday. Our chef also serves up home-made pizzas, salads and burgers.
The outdoor dining area is open from mid-April to mid-September.
The restaurant's head chef will be delighted to adapt recipes to your tastes, making every meal a pure delight.
Are you interested in gastronomy and local produce? Well, our restaurant in Sarlat La Caneda is the perfect place for you.
From high to low season, the restaurant offers you exceptional culinary experiences in perfect harmony with nature!
You will have the chance to sample some delicious local dishes in the large outdoor dining area right by the heated pool in a stunning natural setting, surrounded by natural hedgerows with views over the wooded estate.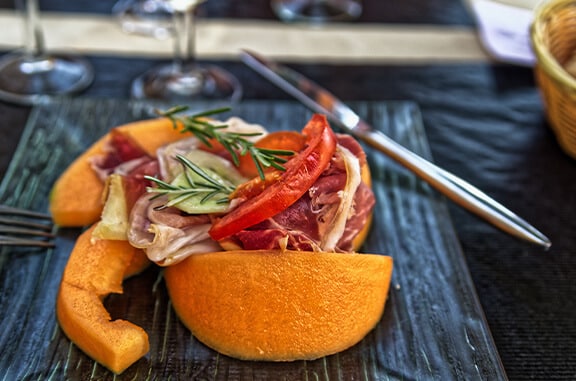 Enjoy the large outdoor dining area at our restaurant in Sarlat la Caneda
The outdoor dining area includes covered and open areas, in the shade and in the sun, so you can admire the landscape while enjoying your meal, even in changeable or hot weather.
Consult the restaurant opening times and menu when arriving at the campsite and book your meal times for an unforgettable moment with your friends in Sarlat-la-Canéda in Dordogne.
Come and enjoy our indoor-outdoor dining area, with a large terrace where you can sample delicious local dishes with friends or family.
After having sampled some well-prepared local specialities, you can choose from a range of activities, such as visiting the town centre of Sarlat and the Gisson manor house or the Lascaux caves, just a 30 minute drive away from the restaurant.
Some of the specialities to be discovered at our restaurant in Sarlat La Caneda
Our restaurant at Sarlat la Caneda has a range of set meals on offer to suit all tastes and budgets. Our hospitality team will be there to help you choose your perfect meal. We also offer a daily special, freshly prepared by our chefs.
Strawberry Gratin: a long-standing guest favourite at Les Grottes de Roffy, this warm-cold dessert is made with mouthwatering Périgord strawberries.

Duck confit with Sarladaise potatoes: a classic local dish made using a traditional recipe.

Chicken supreme with dried fruits and foie gras: a delicious sweet and savoury dish made with home-made foie gras.