Camping Talmont-sur-Gironde
Your campsite near Talmont sur Gironde
A family campsite close to a "Small city of character
For your next vacation, dive into the heart of a "Village of stones and water". Share a moment of cultural discovery with your friends and family by staying at our campsite near Talmont-sur-Gironde. Let yourself be amazed by this beautiful historic village 6 km from our campsite. This small fortified city of character has been classified among "The most beautiful villages of France".
Talmont-sur-Gironde : pearl of the Estuary
A former bastide built by the King of England and Duke of Aquitaine, Edward I, the Presqu'île de Talmont-sur-Gironde was created in 1284. Also called "La Ville Close", it reveals charming alleys which are filled with hundreds of hollyhocks in the summer. Your walks in its paved alleys, lined with white houses with colored shutters, take you to its Romanesque church Sainte-Radegonde. Set on a cliff, it has an absolutely breathtaking view of the Gironde estuary and the Atlantic Ocean. At its feet, don't miss the marine cemetery, full of hollyhocks in spring. Stroll around until you lose yourself in the stalls of art craftsmen and sundials…
A campground in the middle of nature, shared between land, sea and pine forest
A must-see destination, the Chênes Verts campsite near Talmont-sur-Gironde is ideally located between beautiful beaches, ocean, dunes and pine forest. With its comfortable chalets and mobile homes, this quiet campsite will satisfy the expectations of the whole family.
Greenery and trees reign on our two hectares of surface, dedicated to the vacationers. Our accommodations and campsites will make you spend a stay in the heart of nature, in a family atmosphere.
A large sandy beach is only 800 meters from our campsite near Talmont-sur-Gironde. It is perfect for swimming and walking, as well as for family picnics under the warm Gironde sun.
Relax and enjoy the scent of the pine trees accompanied by the gentle melody of the waves.
Successful vacations in our campsite near Talmont-sur-Gironde
A family campground perfect for recharging your batteries
Les Chênes Verts campsite has all the essentials for a successful vacation: shady pitches, comfortable accommodation and an outdoor swimming pool. It also offers a snack bar, a barbecue, a playground, a ping-pong table and a petanque court. With its beaches accessible on foot, its natural green setting, this wooded and friendly campsite has everything necessary to make everyone happy.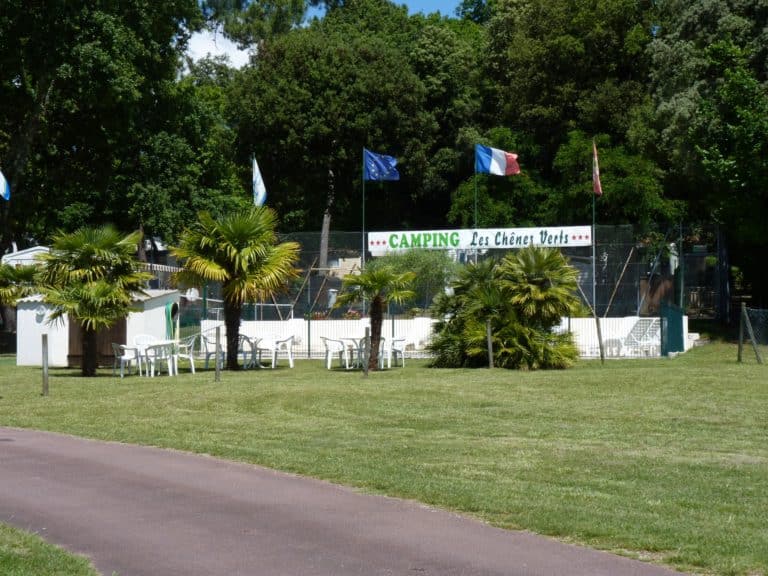 Near Talmont, a perfect campsite to explore the Charente
Spending a vacation in our seaside campsite offers you all the coastline of the Nouvelle-Aquitaine within reach. You will be able to easily discover the department of the Charente: Marais Poitevin, sandy beaches, vineyards and picturesque villages. It is the whole Royannaise coast which is offered to you with all its tourist and gastronomic wealth in high season and low season. On the terrace, taste the oysters of Marennes-Oleron while admiring the azure blue of the sea. Destination the ports of Meschers or Royan to embark on a cruise ship.
Festivities, fun activities and heritage
On Ascension Thursday, you can enjoy the Wind Festival with kite animations, a wind garden and workshops for children. On August 15th, the annual festival of Talmont-sur-Gironde will take place! On the program: fireworks, torchlight procession, games for children, brass band and giant picnic. Talmont also houses the Museum of Local History and Fishing in the Estuary. Next door, the hundred-year-old lime tree in the village square watches over Talmont…
Our campsite near Talmont-sur-Gironde is the ideal place to stay with your family during your stay in Charente-Maritime. Camping with swimming pool, wooded and spacious, it allows you to recharge your batteries and live unforgettable vacations.