THE GARDENS OF EYRIGNAC MANOR
The results of a family passion passed down over more than 20 generations, the gardens of Eyrignac Manor opened their doors to the public in 1987.
Originally landscaped in the French style during the 18th century, the gardens were redesigned in the English style during the 19th century.
The father of the estate's current owner dedicated himself to giving these gardens the multifaceted look they have today, which marries topiary and French flowerbeds with medieval vegetable gardens and Renaissance gardens.
The Eyrignac gardens are located in Salignac-Eyvigues, 13 km from Sarlat.
The 10 hectare park is listed as one of France's "Remarkable Gardens" and is composed of 7 landscaped gardens, each organised around its own water source: French style, rose garden, country, water or vegetable garden, they each reflect a different source of inspiration.
With their 300 boxwood or yew sculptures, the Eyrignac Gardens are also famous for being a showcase of topiary excellence.
Guided tour of the Eyrignac Gardens
A paradise for fans of topiary art, a perfect floral oasis and relaxation spot in the heart of Périgord Noir, the Eyrignac Gardens surround the Artaban Manor, an authentic 17th century house built from local stone and flanked by a dovecote and a Romanesque chapel.
In front of these charming buildings is an elegant French style flowerbed, typical of the 17th century, with numerous topiaries hand-cut by the estate's expert team of gardeners. The estate's meticulously crafted topiary sculptures are famous around the world.
A majestic avenue lined with hornbeams leads you to a peaceful wooded area, where an authentic Chinese pagoda lies in the shade, awaiting walkers in search of relaxation. French elegance reins in the white garden, complete with fountains across 5 pools and decorated with 500 white rose bushes.
At the far end of the domain, it has exceptional views over the Périgord landscape.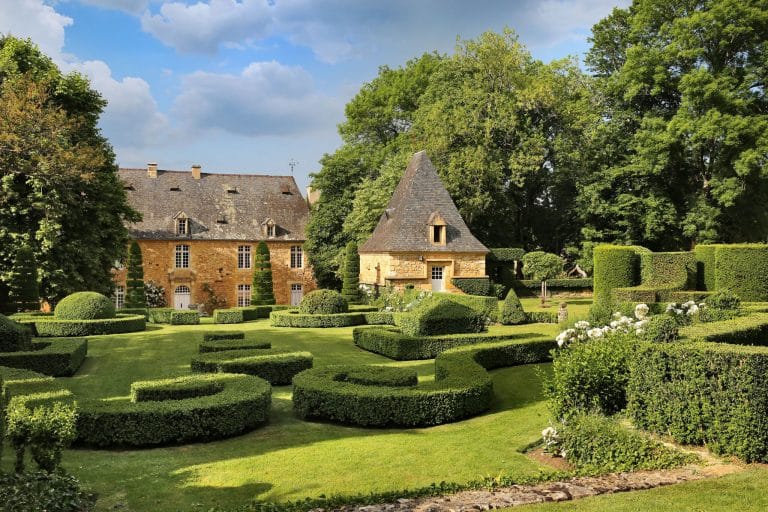 Les Jardins du Manoir d´Eyrignac: opening hours and prices
Gardens open every day and all year round
Closed at 7 p.m. from April to October and at nightfall from November to March
Full price 12.90 euros
Price 11-18 years 8.50 euros
Price 5-10 years 6.50 euros
Free entry for children under 5
Reduced rates for families and students
Supplement 2 euros for guided tours
Restaurant-tea room on site (service from the beginning of April to the end of October)
Picnic area
Souvenir shop, gifts, interior decoration and gardening
A walk in the park of Eyrignac also leads through vegetable and flower gardens, a poetic spring garden and an orchard rich in more than 50 varieties of apples, pears, plums and cherries.
Two botanical trails start from the estate to cross the neighboring walnut and truffle groves.
The gardens can be visited on your own or in the company of a gardener guide to learn about topiary and go behind the scenes of the estate.
If you are passing through Sarlat and would like to take part in events typical of the region, check the Sarlat agenda to make sure you don't miss a thing.